| | |
| --- | --- |
| ... and suddenly, baseball was fun again | ................. 1 1 / 0 9 / 2 0 0 2 |
---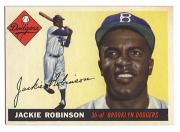 The month after I was born, the Dodgers skunked the Yankees 4-0 in the World Series, behind two of the greatest pitchers the game has ever seen -- Sandy Koufax, the enigma who wouldn't start on the High Holy Days, and Don Drysdale, who, in 1965, actually hit .300 as a pitcher. As a pitcher! In the modern game, you'd have to compare them to Arizona's Randy Johnson and Curt Schilling.

But I get ahead of myself.

When I was in high school, I was a big Dodger fan. We never went to games, but we always watched on TV or listened to Vin Scully's mellifluous voice on the radio. I remember watching, with intense nervousness, Jerry Reuss' no-hitter in 1980, and their spectacular World Series win the next year, led by Fernando Valenzuela, whose knuckleball was in those days almost unhittable. (Mike Scioscia and Steve Yeager would probably have said it was uncatchable, too.)

Age, college, and life happened. I fell in and out of love, stopped following the Big Blue Wrecking Crew as they were known back then. They went back to the World Series in '88, but by then I no longer cared.

Fast forward, ten years later. Mark McGwire and Sammy Sosa get in their famous home run race. Helen becomes a Cubbies fan. We befriend Becky, who is a Boston expat and a diehard (is there any other kind?) Bosox fan. And we all start going to see the Dodgers.

But nothing prepared us for the Angels' appearance in the World Series. Everything they say about this team is true -- scrappy, plucky, never-say-die -- it's all there. Even the Rally Monkey presupposes a need for a rally -- and drives home the point that it helps the team win if the fans are engaged. If they didn't have a Rally Monkey, they'd surely have one in Eckstein, whose listed 5'8" is widely known to be "generous". He runs everything out, even on walks to first base. He's a joy to behold at short. Even his nicknames are endearing: "Just Enough" and "Pest" (because of his base-stealing talents). Spezio's red streak in his goatee. Troy Glaus' and Garret Anderson's stoic consistency. Tim Salmon's football enthusiasm. Adam Kennedy's ALCS Game 5 recordbooks heroics. Darin Erstad's athleticism in center field. John Lackey, the rookie pitcher who made it all the way. Ramon Ortiz, who pitched in the postseason as though his father weren't at death's door in the Dominican Republic. And K-Rod, who miraculously shut down the Yankees and Twins to advance the Angels to their first-ever World Series appearance.

And they won a World Series, right in front of us, at Game 7, with Lackey and Donnelly and K-Rod, three rookies right in a row, finally handing it off to Percival, who got Kenny Lofton to fly out to Erstad at the warning track, so we had no warning when

P O W ! ! !

the fireworks went off to our right and about a zillion red streamers popped out over the infield and everyone was everybody else's best friend and I bruised my hand high-fiving our neighbors.

It was glorious.

So, yeah, next year, opening day, Edison Field. I'm there.

And suddenly, baseball was fun again.
---
Now, a postscript for the Dodgers:
It'll happen for you, too. There's room enough in this town for both teams. We'll be there on opening day at Chavez Ravine, assuming it doesn't conflict. (Their first game of the season is away at Arizona.) The Giants might win the division next year -- with Bonds in play, it's gonna be tough. Arizona? Well, Schilling and Johnson are great, but it's hard to win divisions when all your other starters have losing records. With the new agreement, Bonds will retire or get off the steroids we know he uses. (Right?) So I'm betting the Dodgers will get into the postseason in 2004. We'll watch 'em, in Dodger blue.
But, please do something about your fans. Angel fans have enough sense not to leave the game before the ninth -- unlike Dodger fans, who seem obliged to leave in the seventh. The Rally Monkey drives that point home in a big way.
---