| | |
| --- | --- |
| little CTO. | ................. 0 9 / 2 1 / 2 0 0 0 |
---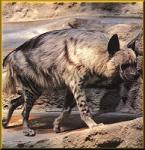 Recruiters are the hyaenas of the tech world. Veteran scavengers, they gladly consume the carrion nobody else will touch. Consequently, they smell bad -- to everyone but themselves. In the wild, real spotted hyaenas occaisionally perform a Grimmsian public service by reminding tourists to keep their hands and arms out of the Dark Continent while the planet's in motion. The recruiter's native habitat is the boiler room, where he hopes to snare flies for lunch, or the direct numbers of Microsoft middle management. That is, he makes his money by being a public nuisance.

My friend Niall recently posted a gag resume to an infamous Internet job board, claiming, among other things, that he
used to work as CTO of Pixelon. If you haven't been following along at F*ckedCompany, Pixelon is the biggest tech stock scam, ever -- $30M in funding, all down the rathole, $16M of it blown on an incredible Vegas launch party.
designed video codecs there (Pixelon always used Microsoft Media Player for their demos!)
had been writing Java for fifteen years (the language is no more than ten years old)
And so on.

The first bite came within thirty minutes, from a headhunter claiming to work for Kleiner Perkins.

The prescience of Suck's motto as applied to technology is staggering. It's no wonder Jamie Zawinski hates phones so much; that ringing sound you hear is probably another recruiter.

Just like this one:

Mr. Rob McMillin:

My name is Lawrence Hasten, President of Elite Channels. We are providers of innovative resource solutions in the technology sector. I have been retained by a pre-IPO entertainment company to conduct a quiet search. They seek a CTO to help lead them from popularity to dominance in the area of convergence. Please peruse the following information.

The company is backed by Paul Allen's Vulcan Ventures, Sony, etc. and is on track to be profitable in 2002. The CEO and President are both quality professionals with excellent backgrounds in entertainment and the Internet.

This is an outstanding opportunity for a professional of your caliber to come in to this high profile position and lead the technical direction of this company to the forefront of convergence. The responsibilities will include high-level technical direction, leadership and total authority for the technical staff, and executive level relationship building. I have identified you as a highly qualified candidate for this role because of your experience with PriceGrabber.com

Please contact me so I may provide you with more detail.

Lawrence. . .

Lawrence Hasten
President
Elite Channels
lhasten@elitechannels.com
http://www.elitechannels.com
(310) 286-7111  Main Phone
(310) 286-7117  Fax

Wow. So this nitwit can use a Perl script to send out huge volumes of e-mail and customize two whole lines. Maybe he'll strike gold. More likely, he'll find a turd and call it fertilizer. I mean, imagine the quality of response this guy gets from his spam. It's like saying you're in the bubblegum business by virtue of finding some on the sole of your shoe. Even his website eerily echoes Jamie Z's comments:
My background is in engineering and information systems including a bachelors from UC Berkeley and a masters from Michigan. I worked for several years at IBM as a systems engineer and for a small consulting firm as a software engineer.
"You were so good, they made you a recruiter." Doesn't that just say it all?
---