| | |
| --- | --- |
| McCourt | ................. 0 1 / 1 6 / 2 0 0 4 |
---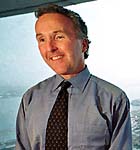 Frank McCourt wants to be the next Dodger owner. It was clear from the start that he was singularly unqualified, lacking working capital and/or partners; his willingness to buy the team minus broadcast rights only made matters worse, but it was this aspect that endeared him to News Corp. Forthwith, a list of his reported crimes and important Dodger transactions since the beginning of his interference with the Dodgers, frequently based on speculation, but nevertheless with plausibility.

This page will grow as our long national -- er, Angeleno -- nightmare proceeds.
Timeline of reports and signings
October 2003
November 2003
11/11/03 -- The first public doubts from within baseball gather as the Times reports "A Lack of Paperwork Delays Dodger Sale". Hm, could the paper be green, bearing the likenesses of dead presidents? No matter -- a "high-ranking official" at the GM meetings claims "we're still owed 99% of the paperwork". This will not be the last deadline McCourt misses.
11/15/03 -- in his column on the GMs' meetings, Peter Gammons predicts the team reverting to a $90M payroll. The GM meetings would conclude without the Dodgers signing a single player.
December 2003
12/1/03 -- After protracted negotiations, the Dodgers lose a tussle to acquire Brewers first baseman Richie Sexson to the Diamondbacks. Sexson was on the walk year of his contract, and it appears (still) as though the Snakes overpaid, sending Craig Counsell, Junior Spivey, Lyle Overbay, Chad Moeller, and minor league pitching prospects Chris Capuano and Jorge de la Rosa to Milwaukee. It's early, though, and there's still plenty of good free agents left -- including the grand prize, Vladimir Guerrero.
12/11/03 -- Newsday and the AP report the Yankees agree to a deal that sends Dodgers ace Kevin Brown to the Bronx in exchange for starter Jeff Weaver and $3 million cash. Later refinements to the deal would add Yankees pitching prospect Yhency Brazoban and subtract $600k from the Dodgers compensation because of pecularities in Brown's contract, particularly the clauses giving him a chartered jet.
12/13/03 -- The Dodgers trade for Juan Encarnacíon for a player to be named later.
12/15/03 -- The Times reports on the unflattering terms of the deal, with News Corp lending "more than half" the purchase price (sorry, no link).
12/16/03 -- Times sports humorist T. J. Simers writes his first column using the "Boston parking lot attendant" sobriquet.
12/18/03 -- Wilson Alvarez is re-signed to a one-year contract.
12/22/03 -- The San Francisco Examiner (via AP) reports McCourt in talks with baseball's ownership committee.
12/23/03 -- The Red Sox finally terminate talks with the Texas Rangers on a blockbuster trade-that-might-have-been: superstar shortstop and, by some accounts, spoiled child A-Rod for malcontent and flake outfielder Manny Ramirez. With no place to put star Boston shortstop Nomar Garciaparra, speculation was that the Dodgers were a likely destination, either directly or as part of a four-team trade involving White Sox slugger Magglio Ordoñez; but none of this ever comes to fruition, especially as the Times reports Kenny Williams demanding Odalis Perez, Guillermo Mota, and not one but two top pitching prospects (no link).
January 2004
---