| | |
| --- | --- |
| new car | ................. 0 9 / 1 0 / 2 0 0 0 |
---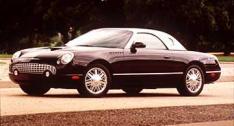 The new Thunderbirds are calling me. That is, they would be calling me if I could buy one. Ford canned the old T-bird back in 1997. It seems a pity to me; if you're going to have a big American two-door sedan with just about everything standard, I don't see how you could go wrong with the Bird. The optional 4.8L fuel-injected V-8 was pretty damn zippy. No rocketship, certainly nothing to compete with the steroidal Vettes or the more amply powered German sedans, but plenty fast enough to get around most of the garden variety slowpokes on the freeway onramps. Even police fleets use a modified version of that engine to power their bigger, heavier Crown Vics, so the the horses are there, to be sure.

As I said before, the car was loaded out the door. From memory, the only real options were leather seats, the turbocharged V-6 or the conventionally aspirated 4.8L V-8, six-way adjustable seats (passenger side only, driver's side had one standard), driver's side seat adjustment memory, two stupidly overpriced CD changer options, keyless entry, fog lamps, high-performance suspension, and traction lock for the kiddies who like to burn their tread in public. I can't imagine Ford sold that many of the last option; the T-bird just wasn't going to attract that demographic. No, they'd be hot after the tricked out Nissans with glass-pack mufflers.

The car, my car, isn't without its defects, though. The transmission notoriously fails, though the dealerships don't mention it, and won't believe me when I tell them. I've been through two major overhauls so far. The body noise, while tolerable, is definitely unacceptable in a modern vehicle. The dash rattles and squeaks in the summertime as if occupied by a family of rats. And -- this is a real annoyance -- the cupholders are in the worst possible place, right under my right elbow. In practice, I have to put my soda in front of the transmission shift handle, limiting me to 16 ounce drinks. But the car gets the basics right. The engine is smooth and strong, the ride clean, the handling crisp without being squirrely. Even with 250k miles on it, it's never at a loss going uphill. So I can almost forgive Ford for referring me back to the dealership when I wrote them about these shortcomings. Feh.

So anyway... back to the new Bird. The new 2002 Bird Ford announced will be a two-place coupe with styling hearkening to the 1955 classic. It looks more like a Miata, a little larger, maybe more trunk space, maybe less claustrophobic. Nothing like the big Detroit iron I bought back in '93. The first version will bear a Needless-Markup cobrand (yuck!). Who cares... it's got "hot date" written all over it.

But I can't put the dogs in it. I can't go shopping in it.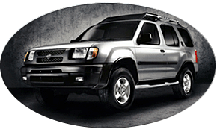 Some months ago, I was musing to the wife about an SUV of some flavor. Helen's immediate reaction was, "Why on Earth would you want one of those nasty things?"
"Well," I said, "we could pack up the dogs and camping gear and head out at a moment's notice."
Ever since that day, she's been very interested in getting an SUV.
Sometimes, a modestly appealing idea loses its interest for you but someone else runs with it, someone you love and cannot simply give an unqualified "no" to. Events hurry past your changed mind. I'm now leaning toward this T-Bird thing, see. Impractical? Oh, yeah. But it would be fun, fun, fun. At least, until the first recall.
---